Mentee's Launch: The Feather Bird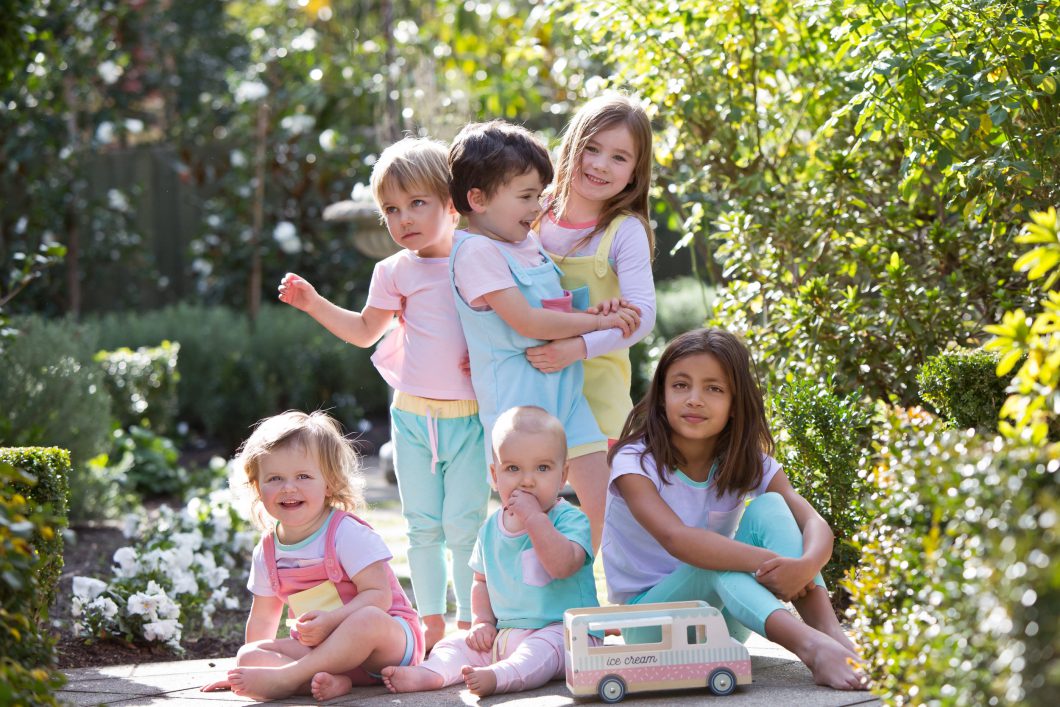 Our Mentee:
Felicity Barras owner of The Feather Bird
---
After finding a gap in them market, our past mentee Felicity Barras designed a range of gorgeous gender neautral children's wear. Here is more about Felicity's new label 'The Feather Bird' and time spent as part of Sample Room's Fashion Label Launch Pad Program.
What is your range about?
The Feather Bird is a Melbourne based gender neutral children's clothing label offering a range of fun and playful basics that can be worn by all kids. We are passionate about gender equality and the importance of facilitating this in children from birth. We believe that allowing kids to wear and play with whatever they want is an important step towards creating a more equal future for our children.
The idea for The Feather Bird came about after we identified a gap in the market. We noticed that gender neutral children's clothing typically falls within one of two categories: ranges using whites, greys and earthy tones, and the other featuring bright patterned t-shirts with feminist slogans and prints. Both of which we love, but we hadn't been able to find a range of high quality basics that are comfortable, practical and encourage all genders to wear bright pastels…so we decided to make them!
Who is it for?
Our first range covers sizes 0-4. Made from organic cotton, not only will our clothes look great and feel soft on your young ones skin, but they are also gentle on the environment. We hope to see many young boys rocking our pastel pink and purple garments!
What did you do for a career before you started your label?
Before starting the label I was (and still am) an Occupational Therapist working in brain injury rehabilitation. I am currently on maternity leave from this position and launched The Feather Bird just in time before the baby's impending arrival!
What is the biggest thing you learnt whilst working through the development process?
The biggest thing that I have learnt is that there is just so much involved in starting a fashion label, and that's where Sample Room has been invaluable. They make sure that nothing is forgotten and walk you through each step of the process. There is definitely no way that I would have been able to develop a range and launch without the support and guidance from Sample Room.
What would you do differently if you did it all over again?
I think the main thing that I would do differently is to back myself a little more, and just be more confident in my ability to design, launch a range and bring my dream to life. I was lucky that I had the encouragement of Julia and the team at Sample Room backing me and making up for my lack of confidence!
How can people buy your product?
Online at www.thefeatherbird.com
What is some advice you would give someone else looking to start a label?
Make sure you are really clear about your brand, vision, what you stand for, and what you want to produce. There are so many steps in the process of starting a label, and you will come up against barriers and expenses along the way, so I think that it's important that you don't lose sight of your initial vision. We always kept this at the forefront, so are really happy with the end product as it really reflects what we stand for. Sample Room were really encouraging about not losing sight of this as well.
If you would like to learn how to develop and launch your own range. Join our Fashion Label Launchpad, as Helen did, and learn all there is to know to be a fashion designer.
Facebook: https://www.facebook.com/thefeatherbird
Instagram: https://www.instagram.com/the.feather.bird