9 Steps To Be Manufacturer Ready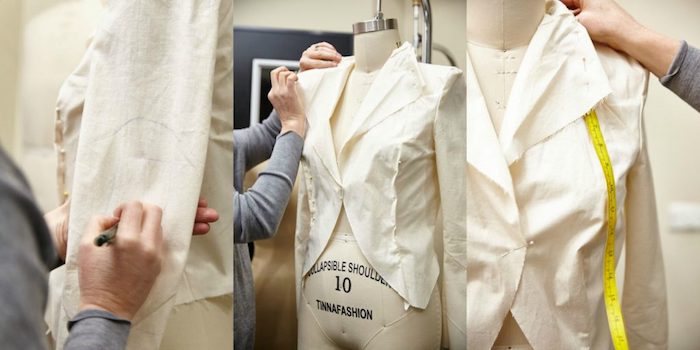 Here at Sample Room, we have a number of meticulous steps in place to ensure the highest quality patterns and samples, ultimately providing you with the best chance to create the perfect garment with your manufacturer.
Read on to see the 9 steps we take to ensure you are manufacturer ready and on your way to creating an amazing collection!
1. Design the style
When we are creating patterns for our clients there are a variety of ways they communicate their design ideas. Some might come to us with sketches that have been developed by a graphic designer, others with physical examples. Communicating your design ideas can be challenging. In our Fashion Label Launchpad course this is where we start guiding new designers through the process. From here, we flesh out the design as the building block to make the pattern from.
2. A pattern is made
Our expert pattern makers use a digital system called CAD. Using a system like this allows us to make patterns quickly and efficiently. Where altering and adjusting of patterns is needed, working from a digital software allows us to make edits much quicker than if the pattern was on card. This ultimately reduces time and money for all our clients.
3. A toile is sewn
A toile is a type of garment we create in order to test the pattern. The toile is often made from inexpensive material that holds the same characteristics of your sample fabric. This stage aims to test the fit, length, proportions and other important aspects of your design. Think of the toile as the perfect prototype to test your design and to gain a complete overview.
This stage is very important. If your pattern does not work on a toile, then it is likely it wont work when creating a sample from your desired, more expensive fabric.
4. Fitting
We fit the toile to a model to ensure sizing, design and proportions are correct.
5. Changes are made
We pay attention to any specifications or changes that are needing to be made before moving on to create the sample. These initial processes are one of the many ways we test efficiency and accuracy in each garment.
The toile process allows the designer to play with their design prior to the finalising stages.
If any changes are made during the toile/ fitting process, this is then translated back to the pattern and altered.
6. A sample is sewn
Once the toile is correct, a sample garment will be sewn out of the desired fabric.
7. Sample is fitted
Final fitting takes place to correct and finalise any required changes
Process is repeated for perfection
The processes are carried out until the client is happy with their garments, and no further edits are needing to be made.
8. Graded into other sizes
Where grading is required, our expert pattern makers will grade each pattern. Our highly skilled pattern makers are experienced in plus size, womenswear, childrenswear and menswear.
9. Production and spec sheets are generated for in-house or off-shore manufacturing
Here at Sample Room, we are a one-stop-shop for every designer. We proudly manufacture ethical small runs, with some of the lowest MOQ's. The decision for manufacturing is a choice ultimately up to the designer and label alike, and we can provide all the necessary production information, tech packs and spec sheets required to take off-shore. Our thorough pattern and sample development process works to make communication between any manufacturer seamless.
Throughout all processes outlined, Sample Room aim to ensure the highest quality in the end result. Sample Room is also the development house for our soon to be launching sister company, Pattern Room.
Pattern Room will be a database of thousands of commercial ready patterns, accessible for all new and established designers to purchase. When you purchase any Pattern Room pattern from the site, you can be assured accuracy, with each completing these rigorous processes and procedures. Furthermore, each pattern has been fitted and tested against standard Western sizing.
Contact Sample Room today for pattern making, consultation, education and advice, call us on (03) 9041 3488.
Sign up to the Pattern Room mailing list to be first notified when the site goes live!