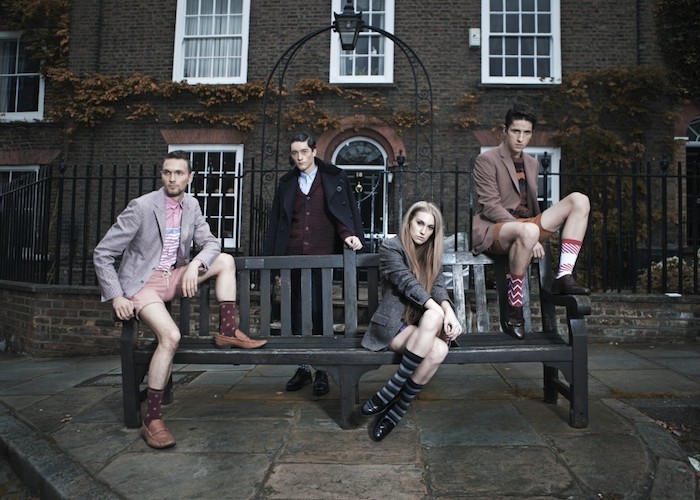 When most people think about fashion, the development very quickly leaps from drawing a picture to a full-blown photo shoot. By now, if you have read any of these blogs you will understand there is a whole lot of complicated work that goes on in between. But today we would like to discuss the planning of the photo shoot so that when you get there you are as prepared as possible to make the best use of the time and money you are spending on this day.
This step in your design career is more like a leap, especially if you've never broached this arena before. Yes, we're talking about working with photographers and models. It sounds scary, and if you're unprepared, or even under-prepared, it can be. But it doesn't have to be! At Sample Room, we've got a few suggestions for making it smooth, well…how about luxuriously smooth silk?
1. Work out your budget. Money. It's always the primary thought, have you noticed? It's so true though, everything hinges on affordability. If you can afford to pay for Cindy Crawford (who? I hear the millennials ask) to be the model on your shoot for your luxury lingerie brand, by all means, make contact and if she's available, use her. But if you've only got a budget of $200 for models then don't waste your time on Ms Crawford. Keep in mind that a small budget doesn't mean your brand can't get high-quality photos and exposure, though. Which brings us to our next point…
2. Choosing your photographer. This is so important, we can't stress it enough. Often the photographer can guide you, if it's your first professional shoot, and help with a selection of models. Photographers can be really fussy, perfectionists about their work, which is a good thing, because once you've got the ONE, you know you're in good, reliable and trustworthy hands. Have a look at their style, Instagram is a perfect place to start this process.
3. If you are choosing your own model, remember there are places out there on the internet that can help you. Melbourne Last Minute Models and Melbourne Creative are private groups through Facebook which you can join. Simply provide all the details you need and BOOM! before you know it you're hooked up with a model for your shoot. This is a time for you to be highly specific – there's no need to worry about sounding racist when asking for a model. If you are after a model with dark skin and a huge afro, here is where you put it out there. If you want a redheaded, voluptuous woman, again, you ask and you get what you want. Let them know eye colour, hair colour, skin colour, dress size, EVERYTHING.
It's all about the right model for your brand, so don't be shy. The more specific you are, the more on point the shoot will turn out. Keep in mind too, that this Facebook group also sources photographers and hair and makeup artists too.
4. Once you've chosen the perfect model for your shoot, make sure you clearly outline exactly what you want from him/her on the day of the shoot. Tell them the precise time. Tell them if you want them to come along with freshly washed hair, or if the hairstylist would like it washed the day before so it is easier to style. Ask them to come along with an un-made-up face if the makeup artist is going to do all the work or you might ask them if they feel comfortable doing their own makeup. Make sure they know everything. Outline it all in the contract too: state if you'll be paying the model, or if it will be TFP work between the photographer and model. If you are unclear in any of your stipulations with the model and/or photographer, you run the risk of the shoot being less than fantastic. And that translates into your brand.
5. Plan your shoot. You will need to create a few different documents before the day and share them with everyone, the photographer, model, hair and makeup.
The first will be a mood board that will show you the style of photos and feel of the shoot, the lighting and the poses you would like to the model to do. On the day everyone will be asking you what you want from them so make sure you are prepared.
The second document is a running sheet of outfits. You will want to show as many variations as you can of the same pieces of clothing. Please don't rely on your creative mind to remember. The day moves very fast and you literally have about 2 minutes per outfit style and shoot. This document should show what is worn together and with which shoes, bags, hats and accessories. It is essential for you to plan for the day, it may take weeks to prepare. During the shoot itself, make sure you are, again, very specific with the model about how she is to pose in each outfit. This includes how they stand or sit, and the way their hair is styled. Hair is one of the hardest parts to edit in Photoshop, so make sure you get it right, perfect, exactly how you want it.
The last document is what sort of images you need and where you will use these images. Will it be on Instagram (so a square aspect is needed) of the header of your website (a horizontal view is needed here) or how about that campaign for the races where you want to place a whole lot of text to the right, remember that you need a photo taken with this much space there to give you this option later on. It's all the in the detail!
6. My last tip is a model release form so you can legally use the images later. This is essential. We hope that these few suggestions can help you on your first professional shoot. Please remember, that, like anything, the more you do it, the more proficient you'll become. We promise you, there'll be a day when you look back and chuckle at how nervous and uncertain you were at your first shoot.
Hang in there, be true to yourself and your brand, and we know you'll be a success.