Mentee's Launch: Harry & Pop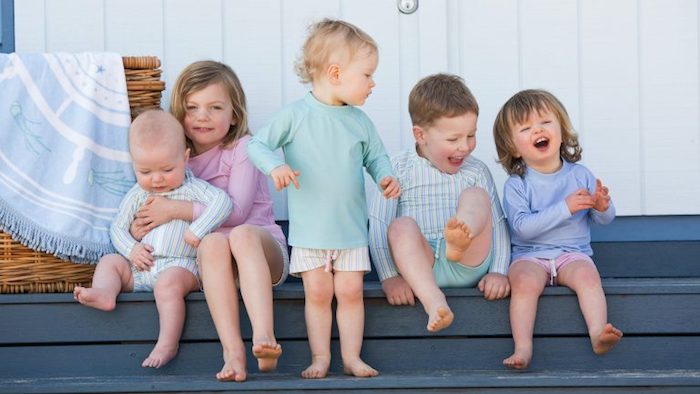 Today, we would like to introduce one of our favourite mentees from Harry & Pop — Lauren. We first met Lauren a number of months earlier before, as she will mention on the blog, she went down another path which was not so successful. We were more than happy when she called us back as we knew we could get her label and her dreams back on track. Lauren has been such a pleasure to work with because she understands the difference it makes with quality pattern making, sample making and manufacturing and how it feels when you are fully supported in your journey.
1. What is your label and who is it for?
Proudly made in Melbourne, Harry & Pop has designed a range of contemporary children's swimwear (sizes 00-4) that puts sun protection first without compromising on style. Our premium Italian fabric is UPF 50+ and chlorine resistant to ensure your little rays of sunshine look stylish while staying protected from the sun's harmful rays. With classic unisex designs in simple custom prints across a crisp pastel colour palette, you can be confident that your child will grow out of our swimwear before it wears out so please hand it down to every member of your tribe.
 The idea came to me when I purchased my son's first swimsuit (late 2015). I found myself becoming increasingly frustrated by the lack of sun protective options that were also stylish.
2. How long ago did you start the process of your own label?
The idea came to me when I purchased my son's first swimsuit (late 2015). I found myself becoming increasingly frustrated by the lack of sun protective options that were also stylish (everything was fluoro or covered in ugly motifs). We started seriously considering the idea in late 2016 and launched our first collection one year later in mid-October 2017.
3. What is the biggest thing you have learnt through the process?
The fashion industry is fickle. It's very hard to get a straight answer when starting out. Everyone is vague and to be honest, I'm pretty sure it's because no one wants to take on a start-up label. That's where Sample Room saved the day! Finally, some transparency! Before finding Sample Room we found that no one would commit to a deadline. Days (sometimes weeks) would pass before we heard back. Costing estimates simply weren't given which makes budgeting impossible. Be wary of this and expect to be in limbo for a while.
4. What is one thing you would tell another designer before they were starting out?
Make sure you keep some money in the bank for marketing once you've launched. Honestly, nothing comes for free so don't rely on the kindness of strangers to help out (Instagram shout-outs, magazine editorial etc.). They will charge you! And that's okay too as they're also trying to make a dollar but if you haven't saved a cent for marketing no one will know about your label so ensure you save some cash to get your brand out there!
5. What was your next biggest hurdle?
Once we launched we realised just how expensive it was to manufacture in Australia. Making a decent profit was our next hurdle. We entertained going off-shore but it didn't sit well with us and we wanted to keep it in Australia. Finding a manufacturer that made our label profitable (and still created quality garments) was a challenge.
6. Would you do it all again?
Absolutely! There was FAR more work involved that I had ever anticipated and I actually had to quit my day job as I was really struggling to find the hours. Starting a fashion label/business with a part-time job and full-time toddler was a serious stretch but working for myself (although round the clock) is so rewarding. If you like to be challenged and don't mind hard-work then this is for you. If you enjoy Netflix after work and a cruisey weekend then I'd forget about it.
7. What is the one thing you would do differently if you had your time again?
Seriously research pattern makers and manufacturers before committing to anyone. And do it in stages too, don't necessarily commit your manufacturing to the person who is making your patterns. We lost a considerable amount of money with our first pattern maker from Queensland (who we had signed on to manufacture with before even seeing their patterns – silly move). They disappeared halfway through the pattern making process (with our money). That's when Sample Room came to the rescue. If you're tossing up between quicker and cheaper over slower and expensive, definitely go with slower and expensive while you're still learning. We made the quicker and cheaper mistake which was very costly in the end!
8. How did the Fashion Label Launchpad help you through this process?
The Fashion Label Launchpad picked us up and took us on after a pattern making disaster in Queensland. The ladies at Sample Room walked us through the process step-by-step, holding our hands the entire way. We would not have produced such a beautiful product without Sample Room (our first samples from the Queensland company were terrible). The support/guidance/advice we received throughout the Launchpad Program was priceless. And with the official part of the program complete, the girls are still happy to answer any question I have and continue to mentor me today.
Would you like to find out more about how we can help you in your journey? Start your journey today with our Online Information Session and then book in for a chat with me, Julia, after and we can find out what the next steps for you and your label are.
Follow Harry & Pop:
Online Store
Facebook | Instagram